Situated between the mountains and the sea, the Club Esse Palmasera has all the Sardinian geography beauty. Behind it, there is an evergreen ridge from which the myrtle, the helichrysum and the lentisk make the Mediterranean scrub scents explode. In front of it, there is the sea, emerald green and blue, full of marine life: a paradise for diving. The hotel's equipped beach is just 200m away, while to reach the Cala Gonone Central Beach or the Aquarium is just a short walk, and only 2.9km to reach the famous Bue Marino Caves.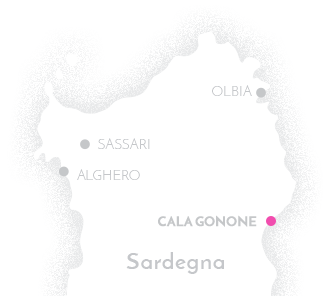 Restaurant & All Inclusive
Cala Luna restaurant, in the central part of the resort and near the pools, with air conditioning it's reserved for guests of the Village and the Hotel. While the air-conditioned Cala Mariolu restaurant is reserved for Borgo guests with table assignment for the duration of the stay.
Show-cooking area where pizza and fish and meat courses are served. Typical restaurant "Posada" by reservation without supplement.
Our service is always buffet style and allows all our guests the utmost freedom and creativity in matching flavors and quantities to their personal taste. Every day we offer regional and international dishes, with a wide choice of appetizers, first and second courses, side dishes, real Italian pizza, fruit, dessert. Theme nights. Microfiltered water, house white and red wine, lager beer are always included (unless otherwise indicated) at no extra charge for lunch and dinner. A selection of local wines is also available. Our staff is trained to prepare food for various food intolerances, specific products are not available, but we can cook, limiting contamination, the foods provided directly by the guest.
"ALL INCLUSIVE" Village formula: to emphasize the internationality of the resort, the "ALL INCLUSIVE" formula is available with a supplement, which includes free drinks by the glass in the following bars:
Pool Bar (central pool), from 10am to 11pm; 
Bar Marea (beach) from 10 to 19;
Bar Chiringuito (Borgo Exclusive pool), from 10am to 7pm only for Borgo Exclusive guests
Products included: water, wine, beer, coffee, juices, various sweetened carbonated drinks, a wide choice of alcoholic and non-alcoholic cocktails, vermouth, limoncello, local bitters, Gin, Vodka, Rum, Pastis, Grappa. The formula is personal and cannot be used to offer free drinks to other people. No alcoholic beverages will be served to minors.
For kids, every day:
RistoMini 'Hero's Banquet': special menu for children who can eat together with the 'Hero Camp' staff in a special area.
Baby feeding room: an equipped area dedicated to kids up to 3 years, accessible with no time limits, where parents can prepare baby food and find the main basic foods prepared in our kitchen without salt and using selected fresh products (meat/vegetable/fish broth, vegetable soup, small pasta, grated cheese, whole and part-skin UHT milk, yoghurt, processed cheese, seasonal fruit).
Entertainment
The Club Esse Palmasera Resort is a large multilingual village with a purely international club formula. All services will be made accessible to all guests, according to the prevailing nationalities. The Resort has large spaces that are perfectly functional for activities, such as the large equipped swimming pool, the piano bar and the amphitheater. The smile of the entertainment team accompanies our guests throughout their holiday with a rich program of entertainment, sports and shows that combines relaxation and fun in an atmosphere of joy and sharing.
All services are guaranteed from June 1st to September 21st, outside the indicated dates there is however a soft entertainment with evening shows, tournaments and fitness.
Sports
The Resort has a sports area with two tennis courts, bocce courts, a basketball court, beach volleyball, table tennis, table football and a kids' play area.
Kids and Teens
The penguin "Pink Hero", the mascot arrived from the ice, waits for our little heroes to entertain them with fun activities, artistic and sports and raise awareness on the themes of ecology.
Infant Club (from 0 to 3 years) from 9.30 to 18.30, with mandatory presence of parents, reserved area within the playground, playroom and baby feeding room with relaxation area for afternoon nap.
Hero Camp (ages 3 to 13, further divided by age ranges) from 9:30 to 18:30 allows our
little guests to experience a holiday within their holiday, with specially trained assistants, equipped
play area, theatre workshop for kids, toy library with games, video library and relaxation area for the afternoon nap.
Young Club (ages 13 to 18) with daily gatherings for sports activities, dances, games
and championships, a cabaret workshop, role-playing games and group games
anti-Covid Measures
The situation of the COVID-19 pandemic is getting better day by day, but Club Esse does not lower its guard. This year we've worked as usual to create the ideal conditions to ensure you fun and relaxation in total safety.
Thanks to this approach, in 2020 over 80,000 guests enjoyed peacefully their holidays in all the Club Esse hotels and resorts.
To find out all the details on the reception, distances, beaches, entertainment and miniclub services that will make your holiday Covid-free, you can consult the appropriate page with all the answers to the most frequently asked questions on prevention measures.



3 bars including 1 with panoramic view

2 sea water swimming pools


Beach Volley/Beach Tennis


Free Wi-fi in common areas
Choose the dates of your next holiday in Sardinia at the Club Esse Palmasera Resort. Hero Camp
The adventurous holiday of your kids
Hero Camp is an entertainment project for children started in 2011 and present in each Club Esse and all facilities with 'Fun for Life!' amusements. The mascot, a penguin called Pink Hero, and our Hero Trainers let our young guests experience a holiday within a holiday with leisure, sports, artistic and theatre activities inspired by themes of ecology and community… Learn more
All the Club Esse tourist facilities