Thirty meters from the ski slopes
At Club Esse Pila 2000 hotel, in Gressan, you can ski for 70 km without ever taking off your boots and without ever losing sight of the peaks of Mont Blanc. This is the first National Park established in Italy: the Gran Paradiso, where the ibex can be admired solemnly. For your stunts there is the Snowpark, Courmayeur is a true catwalk for the ski holiday, but even children have a path dedicated to their adventures. And in the alleys of Chamonix you will face a Hamletic doubt: for dinner fondue or seupa à la vapelenentse?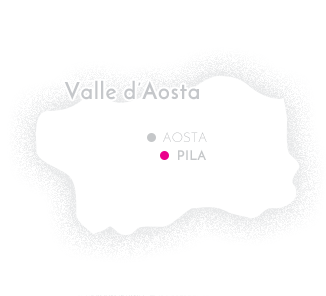 Restaurant
Our service is always buffet style and allows all our guests freedom and creativity in combining flavors and quantities to their personal taste. Microfiltered water, house white and red wine, lager beer are always included (unless otherwise indicated) without any supplement. Our staff is trained to prepare food for various food intolerances, specific products are not available, but we can cook, limiting contamination, the foods provided directly by the guest. Kid's menus and dedicated space for lunch with the entertainers are also available.
Entertainment
The engaging and unintrusive entertainment team accompanies our guests throughout their entire vacation with a diverse entertainment program, including board games, tournaments, and themed evenings.
Sports
Winter sports: More than 70 km of ski trails, with slopes for beginning, intermediate or expert skiers. Free riding and snow boarding trails with a half-pipe. Cross-country skiing, Alpine skiing. Fun Park. 15 ski systems (cable cars and chair lifts). Snow-shoeing trails.
Summer sports: Paths for mountain biking and downhill, free riding and cross-country biking, with a cycling stadium. Hiking. Free climbing, paragliding, balloon flights. Fishing. Adventure park.
Children and Teens
"Hero Camp" for children from 3 to 13 is available from 9:00 to 13:00 and from 14:00 to 18:00, except on Sundays. It allows our young friends to experience a holiday within a holiday, with specialized assistance, equipped play area, playroom with games and video library. The teenagers can have lunch with the entertainers for an additional fee of 15 euros.



70 km of ski slopes next to the hotel


Free Wi-fi in the common areas



Choose the dates of your next holiday in Valle d'Aosta at the Club Esse Pila 2000. Hero Camp
The adventurous holiday of your kids
Hero Camp is an entertainment project for children started in 2011 and present in each Club Esse and all facilities with 'Fun for Life!' amusements. The mascot, a penguin called Pink Hero, and our Hero Trainers let our young guests experience a holiday within a holiday with leisure, sports, artistic and theatre activities inspired by themes of ecology and community… Learn more
All the Club Esse tourist facilities