Wouldn't it be a dream to go on vacation to a seaside resort in Sardinia, Calabria and Abruzzo and be able to pay the full amount in small installments and with no interest?
Book now and pay in small installments
Do you want to go on vacation but would rather not use your full wage or put your whole hard-earned savings?! In Club Esse hotels and resorts you can now do this. You simply have to book your holiday and, with the Holipay option, you will pay the booking amount little by little and without any interest.
How does it work?
Holipay is the first BNPL (buy now Pay later) platform dedicated to the world of vacations, which allows you to book and pay in installments the whole amount of your stay by charging your credit card with no interest and with no commissions.
How can you activate the Holipay option?
Nothing could be easier: once you have chosen the hotel and the arrival and departure dates, on the payment page, check the "Pay in installments with Holipay" option.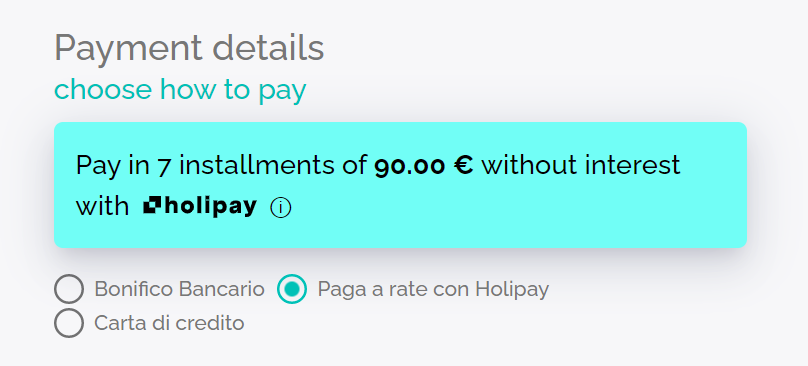 Or, even simpler, call +39 0645439344, one of our operators will answer you, and you will ask her to book with Holipay 👍
How many installments can the holiday be paid in?
The number of installments is calculated based on the time between the booking and the last day of the stay (check out).
You can pay your holiday from a minimum of 2 to a maximum of 10 installments, divided as follows:
First installment at the time of booking
On the first day of each month the other installments
On the first day of the check-in month, the last installment
What are the benefits?
First of all, booking your holiday in installments in one of the resorts of the chain is totally and interest free. So why not?! 😎
In fact, the financing of your booking is completely commission-free.
But the biggest advantage is that you finally won't have to drain your wage or dry up your savings to book a dream vacation in Sardinia, Calabria and Abruzzo.
Book your holiday in installments
---
Or contact us by phone or email: